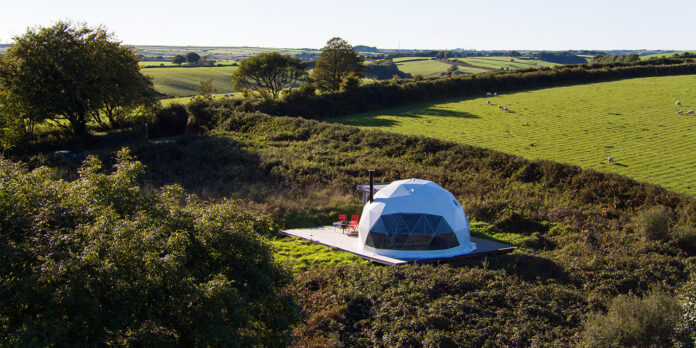 If you've had the opportunity to travel a lot, you've probably seen a dome beach during your summer vacation in some destination. These particular structures are known as geodesic domes and have been incorporated into the eco glamping industry.
With the purpose of having new experiences in terms of tourism, many lodging and accommodation companies have had to come up with new ways to provide their customers with different options that make them have an unforgettable vacation.
The glamping trend has been incorporated into the tourism industry because of the different possibilities of camping in nature, but with certain comforts inside the tents that conventional tents do not have.
Geodesic domes are the new tents to live nature to the fullest, so it is increasingly common to see beach domes, domes in the mountains and even in the jungle, built and adapted to natural environments of this type and for different weather conditions.
Camping with glamour
Glamour camping, or "glamping", has arrived so that you can live a natural, outdoor, and even wild experience, without having to give up all the comforts you like.
Can you imagine having in your tent a nice bed or your own shower? This is possible thanks to glamping. A new trend of natural tourism is that people have adapted to their tourist routines or for their vacations in different destinations around the world.
Although there are many types of glamping, the domes, and geodesic domes are the common ones in this type of camping, for having a design or architecture quite stable and resistant to stay in extreme weather conditions or places deep in nature.
Eco glamping
Those who are inclined towards glamping have several options to choose from, including safari tents, yurts, tree houses, and many more. However, the dome is one of the most sought-after designs by tourists because they have many types of them and also, eco-friendly conditions for those concerned about the environment.
Glamping is a relatively new concept, but it has already many years of occupying an important place among those that tourists choose for their vacations in nature, either in the mountains, in the jungle, or on the beach.
Eco glamping resorts
In view of the interest of thousands of tourists in getting eco-friendly accommodation options, glamping has also had to join this trend, so it is increasingly common to get geodesic domes with 100% sustainable conditions.
Entire resorts have incorporated sustainable methods to offer their clients hotels, rooms and dormitories that do not negatively impact nature and of course, the domes they have for glamping cannot be the exception.
Glamping for events
Some only relate glamping to vacations or tourist activities in nature, however, geodesic domes and domes have been incorporated into the entertainment industry, especially with this trend of concerts and outdoor events.
It is no secret that music festivals are very popular nowadays and the companies in charge of organizing them have offered attendees this type of structure to stay, taking into account that these festivals last for weeks.
Concert or festival-goers can reserve their domes, some even near the beach. These are built with special materials to withstand not only exposure to the sun and outdoors, but also to water in case the event is near the sea, as in many cases.